Our open frame power supply products start at 5W, ranging up to 300W, are available in single and multi outputs, AC/DC or DC/DC, and include ranges with battery backup channels and others suitable for medical applications.
The range includes many common form factors for open frame power supply units including 4″ x 2″ and 5″ x 3″; available voltages start as low as 3.3V, through to 48V. The open frame power supply range includes pcb mount (on-board), green mode and medical types in a choice of single, dual, triple and quad outputs. Green mode models are suitable for ErP regulated end systems, Medical PCB models are medical safety approved (2xMOPP); all other models are industrial safety approved.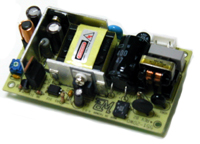 Open frame power supply products offer the most flexibility as they can be installed directly into customer systems, easily have cable looms fitted and can even be packaged into metal cases for those applications that benefit from an enclosed power structure.
Not what you were looking for? Just give one of our sales team a call.